Newgrange Kerbstone
Newgrange Kerbstone
$99
SALE Price: $75 SOLD
Acrylic on canvas
12″ x 16″, unframed
I love that Newgrange makes me feel stupid and insignificant. While modern Ireland builds buildings it then discusses knocking down or hiding twenty years later, ancient Ireland built Newgrange a few thousand years ago.
The only unfortunate thing is that the carved spirals and shapes on its kerbstones now bombard us from anything that wants to appear Irish or Celtic.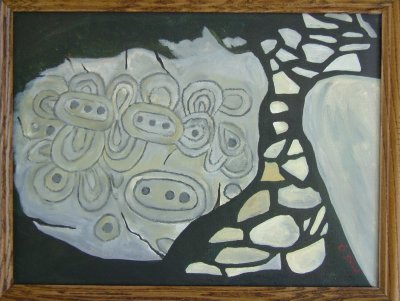 Shipping is FREE to anywhere in the world.
So the sale price of $75 is what you pay in total to purchase this painting and have it shipped to your door.
Even though you can see a frame in this photo, the painting is being sold unframed. To keep my shipping costs down this painting will probably be shipped in a tube rather than my usual and preferred method of flat in an archival sleeve - but if I can afford to ship it flat I will.
See more paintings currently on sale.
---