Ah yes, relief, exhilaration, frustration. Interesting moments when you finish a painting. You're done. Relieved mostly as you down the brush.
Then you walk away from it and feel exhilarated if it's what you were trying to paint. You don't look at it any more, you put the kettle on. You remember you're in Kansas City, an emigrant from Ireland, so you check who won the Cheltenham Gold Cup - Kauto Star has - and you try and arrange to watch tomorrow's big rugby internationals so you can see if Ireland (or France, or England I suppose) will win the Six Nations.
Then you remember you just finished a painting and you turn your head to look back at it. God it's awful you tell yourself and go to put your foot through it. Then you remember a long time ago you promised yourself to stop doing that.
So here is Bandon. In West Cork, not Oregon. It's not in the shop available to buy because I'm not sure about it yet. Maybe on Monday. Now let me go get another one.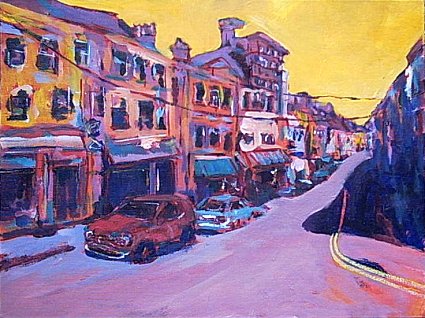 See Other Paintings:
• Killarney
• Kinsale I
• Kansas City