Matt & Shannon Heaton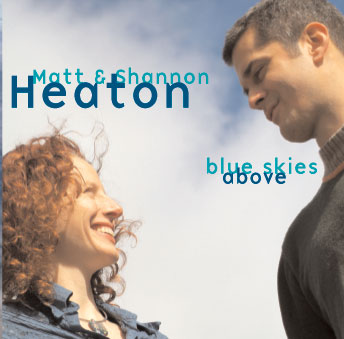 Matt and Shannon Heaton are internationally known as two thirds of the traditional Irish trio, Siúcra - Beth Leachman being the other third.
Shannon
Shannon's mom started her out on the piano at the age of 3. Four years later, she was living in Nigeria and learning flute and whistle from her Belgian neighbor.
Throughout her early days, she was exposed to a number of traveling musicians and folklorists who would stay with her family while passing through town.
When she settled in Chicago for college, she became involved in the Irish music scene on the north side of the city, where she really started to hunker down to learn traditional Irish flute. She'd spend nights at sessions in the city, summers in Ireland, and has been playing tunes ever since.
Matt
After a disastrous start on trumpet (at age 12 he entered a competition, as unprepared as he could have been), Matt fled to the guitar. For $35, he landed a Harmony Electric at a rummage sale in Shadyside (Pittsburgh), complete with amp and new butter dish.
Through college he played with surf-rock band The Flavor Channel, fronted neo tango quartet Orquesta Atipica, turned pages and sang in the choir for his organist father, and studied classical guitar… before settling on Irish guitar.
Matt has no family ties to Ireland—he's as olive-skinned a trad player as you're likely to meet—but a longtime love of the music drew him to it, and meeting Shannon in Chicago sealed the deal.
Matt and Shannon
From Chicago, Matt and Shannon moved to Boulder Colorado, where they formed Irish trad band Siúcra. In 2001, they moved to Boston where they worked as sidemen for some of the Celtic music world's best performers. In late 2003, they decided to emerge as a duo and recorded their debut disc, Dearga. They began building their reputation in Celtic music circles, and also more general acoustic music crowds at folk venues and festivals throughout the country.
Matt has recently returned from an international tour in New Zealand and both he and Shannon were featured instructors at the O'Flaherty Irish Music Retreat in Texas at the end of October, 2006.
Matt's inventive guitar and bouzouki playing provides a rich framework for Shannon's timeless, evocative lyrics and her stunning Irish flute playing. Their masterfully-arranged songs move seamlessly from full harmony singing, to driving wood flute riffs, to lush guitar lines, creating a big, layered, modern sound.
Both Shannon and Matt have music roots in Chicago though they now reside in Boston where they are commonly seen at traditional music sessions around the city. They are known as a powerful duo combining the guts of Irish traditional music and the grace of today's most literate songwriters.
Their work on Irish flute, guitar and voices place them among the finest of the new generation of traditional performers from America. They helped to found, and continue to be involved with the annual Boston Celtic Music Festival now in its third year.
Quotes about the Heaton's music:
American husband-and-wife duo Matt & Shannon Heaton combine lilt and contemporary sensibility. Consisting largely of flute, guitar and bodhran [they] sidestep the expected treble timbre of Irish music… [And their vocal] songs are standouts
Sing Out! Vol. 48 #1 (Folk Music Magazine)
Irish music with a wonderfully rich and earthy sound…and an infectious spirit and vitality that translates into bright, uplifting music that will make you smile
Dirty Linen (Folk Music Magazine)
Shannon's flute work is stunningly bright and accurate, and Matt nails it all down with his powerful, textured guitar playing
American Guitar
Their playing is masterful and inventive, their arrangements city-smart and spacious.. they bring a savvy modernity and American rootsiness to the auld Sod's music, without losing any of its folksy Irish essence
Boston Globe
Blue Skies Above
In various guises the Boston-based duo has been performing together for over a decade, and has released five CDs of which the latest is Blue Skies Above, released in March of 2006.
On Blue Skies Above, the Heatons offer a seamless blend of traditional and original music, adding occasional electric guitar, drums, fiddle, banjo, and accordion whenever tracks called for it. Shannon explains, We never sought to make the old world new—we just went with what was in our heads and hearts. We have some guest musicians on the CD, but made sure that every track on the record could be recreated live, with just the two of us
CelticRadio's Paul MacArthur said Blue Skies Above offers "some of the best jigs and reels that we have heard in a long time. Not only that, but these two can sing - with Matt's fresh and commanding vocals, balanced with Shannon's inspiring and flowing vocals blends 'Blue Skies Above' to perfect harmony."
Blue Skies Above, takes its title from Shannon's self-penned last verse of the traditional song The Blackbird, highlighting the Heatons' style of merging traditional and original lyrics and melodies. Harvest Time pairs early 20 century courtship with modern low whistle and fiddle solos.
And for the lovely instrumental, Belle of the South Shore, Vermont musician Sam Amidon adds clawhammer banjo strains, fusing traditional Irish and American music worlds.
Other guests include percussionist Paddy League, Scottish singer/accordion player Emily Smith, New Zealand fiddler Jamie McClennan, and singer/fiddler Laura Cortese.
Strong Irish traditional music and great original songwriting. Matt and Shannon's shows feature stunning musicianship that honors the Irish tradition, an easy rapport with audiences, and a selection of music that you won't hear anywhere else.
---