The first full live Irish music performance at Delahunt's Cafe & takes place Saturday 7pm, July 8th at the 45th & State Line coffee shop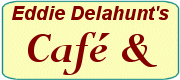 The Cafe & will be open late, as Gabriel Reyes (bodhran), Brett Gibson (accordion), and the man of the mocha, Eddie Delahunt himself, perform Irish traditional music outdoors in this latest Irish music venue for Kansas City.
The gig will have no cover fee, but you can't expect musicians to live on crumbs and coffee alone, so do expect a hat to exist and be passed around.
Mochas, Lattes, Smoothies, Pastries, Soft Drinks and Ice Cream will of course be available.
Cafe & Location: 1811 W 45th St, in KC, Missouri
Cafe & Phone: (816) 753 3322
See Also:
• What Does the Cafe & Look Like?
• What Does the Cafe & Outside Deck Look Like?
• What Does it Look Like from Kansas?
• What Does Eddie Look Like?