Killakee View
16″ x 20″
On paper, unframed
$99 SOLD
Shipping: $25
At the time I painted this I lived on the edge of Firhouse in the foothills of the Dublin Mountains. That's not Kilakee you have a view of; it's Montpelier Hill, the one with the Hellfire Club on the top, and it's blocking the view of Kilakee Mountain.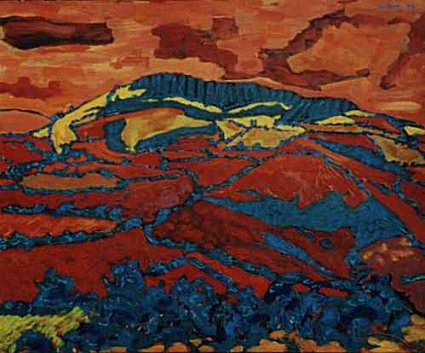 It was a sunny day in Dublin and I went down the back garden and climbed onto the roof of the shed from where I painted this. There actually was a big pylon directly in front of me, but I left it out of the painting, and happily, years later the pylon was removed. Unhappily most of the near fields you see in this painting are now full of thousands of houses, and a few apartments.
The tip of the roof of the Hellfire is barely perceptible if you know what you're looking for. Or else I'm lying.
Update: This painting is now SOLD.
See more of my Irish paintings for sale.
The scary woman from next door came out to bother me when I was doing the under-painting of Burnt Umber.
-What are you painting?
-This, I gestured at the view which I guess could also have been the pylon.
-All I see is brown?
-Well isn't everything brown - when you really think about it?
She only bothered me one more time after that, looking for me to do a family portrait before she asked her husband to move out and the trucker to make his visits permanent. I said I'd do it, but being a modernist I'd probably paint her kids as black squares. Lost that commission.
And why is this painting called Killakee View when you don't quite have a view of Kilakee Mountain? I painted it from a road called Killakee View. So take up the naming issue with the developers and the county authorities.