Caoimhín Ó Raghallaigh, the Irish musician I spoke about 3 months ago, stopped by IrishKC on MySpace a few days ago and left a very nice comment on this painting of Ireland of mine.
The painting in question is of a stone fort in Kerry on the Ring, called Caherdaniel Fort.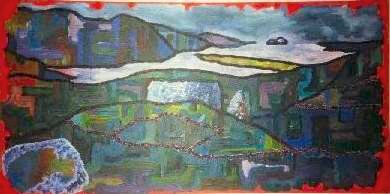 It was painted some years back and is hanging here beside me on the wall.
I like Caoimhín's comment especially because I had a very similar experience in that part of Kerry and was planning to share it with Irish KC readers in a long-winded account of an Irish holiday. And I still do, in fact.
Whenever I find the time I am adding paintings to the MySpace pictures all the time - including many long sold or for other reasons never seen here on Irish KC
As you know by now you can see all my paintings that have been on special offer on Irish KC, whether sold or unsold, on my Irish Paintings page.
See Also:
• Kinsale, a painting
• About Caoimhín Ó Raghallaigh (includes videos)
• Kansas City at Night, a painting