Kennedy's Bar & Grill of 75th Street in south Kansas City is reopening.
Just 6 months after the Waldo fire that completely destroyed it and several other businesses, Kennedy's is almost all set to open again.
What do you mean you've driven past and all you've seen is a vacant lot with a big hole?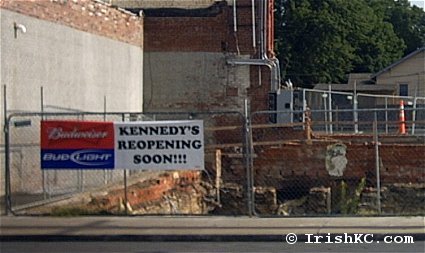 Actually they are to start building on that vacant lot fairly soon again, but anyway, have you looked next door?
At 512 West 75th Street a new Kennedy's Bar & Grill is almost ready for customers. Yes I did say that the worst pint of Guinness I ever had was in Kennedy's - but that was 10 years ago.
And your worst pint has to be somewhere. In Ireland my worst pint was in Navan, but I still go back to Navan. At least I do whenever Dublin are playing there.
And yes I said some unkind things about the service received in Kennedy's over the years, or more correctly not received, but didn't you notice that I kept going? Last year Kennedy's was the pub I went to more than any other except O'Dowd's Irish pub on the Plaza. And O'Dowd's only won that little competition because of regular live music by Eddie Delahunt.
Yes I kept going because it was a love story. And now here is the sequel, a kind of Oliver's Story, if you're following my Ali MacGraw logic.
And here is the brand spanking new Kennedy's Bar & Grill: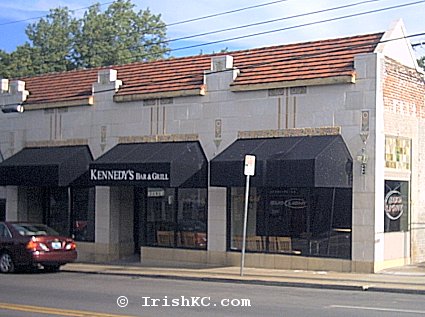 It looks very nice and sparkling inside, lots of what appears to me as pine furniture. Even the couple of large green (stencilled?) shamrocks on the tables are tastefully done and that's not a sentence I'd expect myself to say.
Mostly though Kennedy's is clearly a real bar in a real location, so this is way more exciting than McFadden's opening downtown. Give me a real bar to an authentic pub any day.
And I think the people that lost their business and have fought to bring it back deserve the support of those who like pubs. They even held their St Patrick's Day party for Kennedy's patrons despite there being no building anymore.
Kennedy's Bar & Grill is one of the 7 locations featuring in the September 15 2007 Falldo Waldo Crawldo.
See Also:
• History of an Irish Pub in America
• The Closing of Irish Pubs in Kansas City
• 10 Years of Being an Authentic Irish Pub
• Open an Irish Pub in America