Kenmare River
$135 to IrishKC readers
Update : SOLD
18″ x 24″
Framed
This was a view I had from a house I stayed in one summer in Kerry. The house was on the Ring, past Caherdaniel towards Waterville, near the end of the Iveragh Peninsula, with views towards the Skellings, to the right, and this one over Kenmare River to the Caha Mountains on your left.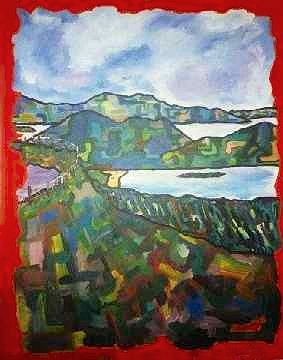 This is quite an old painting for me, but I appear to be offloading some memories lately. Or buying myself some time as I try to finish the latest batch of Irish paintings I'm claiming to be nearly done.
Shipping is $15 for within the US and $25 for the rest of the world.
Purchase online from HERE using Visa or Mastercard.
Kenmare River is of course a bay, and we call it a river to confuse tourists. I was going to tell ya a story or two about this painting, but I'm tired. Maybe later we can have a cup of tea and a chat.
See other paintings of Ireland by me on special offer to Irish KC readers