What used to be WJ McBride's Irish Pub & Restaurant in Overland Park, Kansas is now Public House, or Kansas City Public House if you prefer.
Located at 12030 Blue Valley Parkway in Overland Park, KS, it's a very welcome return for what was many people's favourite "Irish Pub" interior of the recent batch of "authentic" Irish pubs.
Flannigan's Right Hook have performed there a couple of times, and Bob Reeder recently added a Tuesday gig there to his regular weekly performances.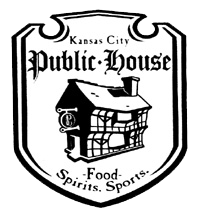 It looks much the same as it did when it was McBride's, albeit with the 20 plus HDTV's that were subsequntly added. It still has the fine patio for example, but mostly it's that old familiar woodwork that people will enjoy seeing again.
A 120-seat restaurant that's open for lunch, dinner, and late-night snacking, and it has that room where so many big names in the Irish Celtic Rock circuit have played in the past, or, on the nights there is no live music, where you can play games. That was the room whefre for 4 years I regaled dozens of people every week in the multi-media extravaganza that was the WJ McBride's Pub Quiz.
Live music at The KC Pub House is promised 2 nights each week.
The address is confusing because the Public House is in the strip with its back to Blue Valley Parkway. But if you turn in at Target you'll find it just up and in to the right a little bit. Or you can drive straight there from 119th St right past Lucas Liquors.
The name is either genius or stupidity. Already I've seen it referred to as Public House and Pub House, with either Kansas City or KC as a prefix, or neither, and to boot some people liberally prefix any aforementioned version of the name with the definite article. So for now it would seem that you can call it The KC Pub House or Public House etc. At least until David Shaughnessy the name police catch up with you.
Personally I like The House, because of the Irish predisposition to using the definite article, and because I like simplicity. Not to mention that the pub isn't even in Kansas City.
Kansas City Public House is owned by Lone Star Pub Operations LLC
I've been meaning to post on this for over a month since it popped up on my radar, but real life in ireland and in Kansas City has a way of getting in the way of the online life joining them together.
Phone: (913) 327 7717
Wesbite: www.kcpublic-house.com
More on Irish Pubs in Kansas City:
• The Closing of Kansas City Irish Pubs
• Chicken McBride's
• Raglan Road: A New Irish Pub for Kansas City
• History of a Pub, an Irish Pub
• McFadden's Sports Saloon Launches KC's Entertainment District