Kansas City's Gaelic Athletic Club yesterday played in the 1st Mid-America Gaelic Classic over in Springfield, Missouri.
In a rematch of their first Gaelic Football game against Arkansas's Little Rock Na Fianna GAA earlier in the summer, a fitter Kansas City this time went much closer.
Their brand new jerseys had arrived just in time: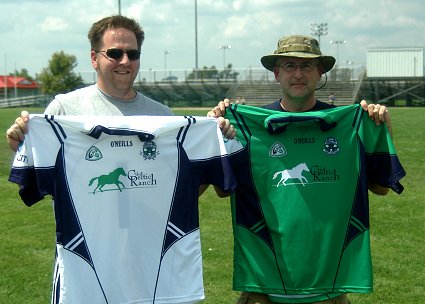 The result?
Little Rock 2-6 : KC 3-2
If you're unfamiliar with the scoring notation of Gaelic Games, goals are listed before points. Points are over the bar as in field goals in American Football, and goals are under the bar past the goalkeeper as in soccer (though the goals are smaller than soccer goals). A goal in Gaelic Football is worth 3 points.
Adding total values in for readability then gives you:
Little Rock 2-6 (12) : KC 3-2 (11)
A one-point game.

photos courtesy of Pete Maher
Kansas city also played against the more established St Louis Gaelic Athletic Club, and em, well let's just say they did better than Dublin did against Tyrone, also yesterday, in the All-Ireland quarter-final at Croke Park in Dublin.
It is nothing short of fantastic that Kansas City was able to participate in such an event in this their first year. They deserve every encouragement and support, as well as gratitude for their commitment and effort in exposing KC to genuine Irish culture. Why don't you join? It would mean you, and your kids, would do something Irish every week.
Kudos to their sponors, The Celtic Ranch, The Gaf, and the KC Wizards.
See Also:
• National Attention for KC Gaelic Football
• Dublin v Kerry
• Championship Sundays Like this
• Is Kansas City more Irish than the Cayman Islands?
• Irish Counties in Kansas City