The last job I did in the weeks before emigrating to America in 1999, was to paint 3 murals in an apartment in Dublin's city centre.
Dublin itself was the theme but I was given a very free reign to paint whatever I wanted.
For the most part during the day I would walk a few minutes and look at the places in Dublin I was painting, and then by night I would paint. Give or take some time travel.
I referred to the murals as The Old, The New, and The View, depicting as they did an older Dublin, a modern Dublin, and the view of Dublin from the apartment that you didn't have due to a couple of buildings being in the way. They are 4-foot, 6-foot, and 8-foot wide.
All of these photos can be clicked to enlarge.
This is the new and the view. The Civic Offices and the Four Courts.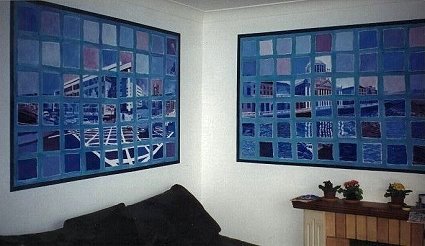 And this is the old with the new - the old being O'Connell Bridge and Street from 100 years back.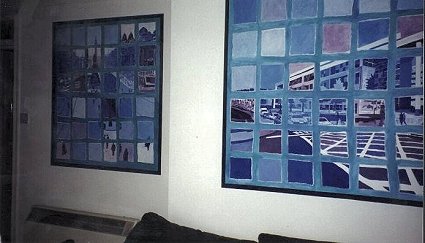 A close up of the top of O'Connell Street - or Sackville Street as it then was called. And that would be Nelson's Pillar there behind the monument to Daniel O'Connell.: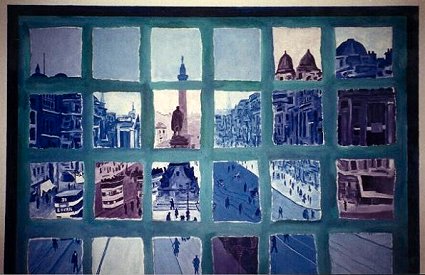 And here's a close up of the bottom of that mural - showing O'Connell Bridge, which is what it was called then having been renamed from Carlisle Bridge many years earlier: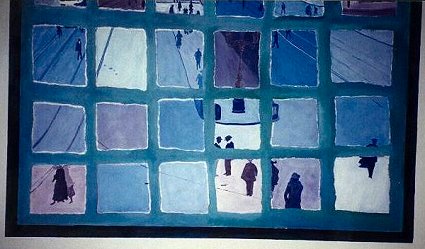 The Civic Offices are on Dublin's Wood Quay, built to obscure the earlier incomplete Civic Offices - you can see one of the 2 pillars (there were 4 planned originally) - which were themselves built on top of the site of historic Viking Dublin. And that's Christchurch Cathedral at the top of the hill - originally obscured, then its view uncovered only to be obscured mostly again by the pillars and finally left viewable through the end-peephole of the offices constructed to continue the line of the quays: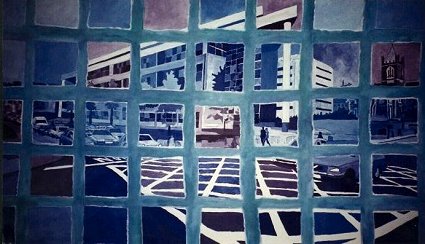 And since we're looking at each one individually, here's the Four Courts, the biggest of the 3 murals being 8 foot wide and therefore it suffers here being represented by just a few inches (each individual square is over 5 inches x 5 inches):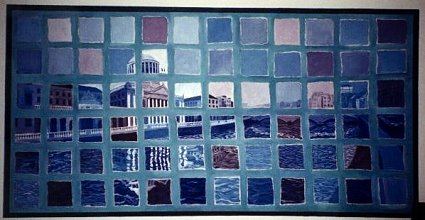 As well as for food and lodging, this job was done for a few hundred quid (this was the last days of Irish pounds) and a couple of pairs of jeans. I'd be happy to do it again though I'd probably ask for a lot more money.
[See More Murals: The Cistern Chapel]
Meanwhile, you can look at the more regular and much smaller paintings I've done - that are currently available for sale (note: the selection is often small due to most paintings selling fast.