Last month I had the great privilege and fabulous pleasure of watching the duo that is Kansas City's own Iris Temple perform in England on their European tour as support act for Xavier Omär.
After performing in Brussels, Amsterdam, Berlin and Paris, it was in the Soup Kitchen in Manchester's Northern Quarter where I saw them perform. They would go on to finish their tour the following night in front of an 800-capacity crowd in London, before returning to Chicago.
While sometimes performing with a full band, Iris Temple on this tour performed just as a duo and, such is the quality of their songs and their talents, the two Quinns pared down sounded no less polished and soulful than the EPs they put out. They were enthusiastically and appreciably received by the fans of Xavier Omär.
Their 30-minute set was comprised of new songs as well as older tunes, including their first track to pass the one-million stream mark on Spotify (Lemonade). They also happened to play all my favourites, but then I might be biased.
As I watched my son sing on stage, songs that he and Quinn eile have crafted, I felt as fantastically proud of him as I have done for so many years. Apologies for the quality of this photograph, I may have had something in my eye. (Or maybe I'm just not very good with a camera).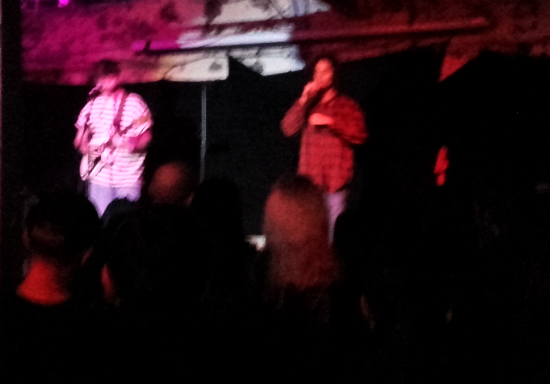 p.s. Xavier Omär himself was ridiculously nice, rocking, and rather excellent, but for me the main act was on first.