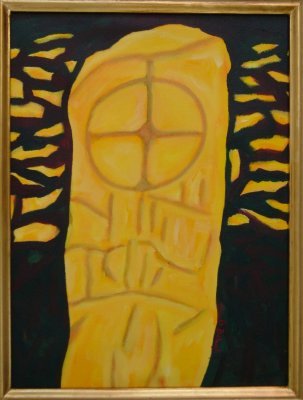 Gallarus Stone
12″ x 16″
On canvas
Available as print only
This painting of a carved slab by the Gallerus Oratory at the end of the Dingle Peninsula in Kerry, always reminds me of the day I saw this first.
There was the sound of a banjo from behind a hedge. Nobody around but a man in a field busking in winter on the off chance somebody might walk that way to the Oratory.
He was playing the "duelling banjos" from Boorman's Deliverance. Frightening your potential customers is not a way to earn money.
[Update: The original painting is sold but Gallarus Stone is now available as a print in 2 different sizes]
See more of my Irish paintings currently for sale.