Flannigan's Right Hook
Cameron Russell, Shane Borth and Michael Cochran are Kansas City's Celtic Country Rock band that everybody used to spell differently. Flannigan, Flannigin, Flanagan, Cameron's thoughts on the subject are HERE
Update: Flannigan's Right Hook CD
In what gets classified as 'Celtic Rock' there is all manner of forms. The Pogues for instance were never a Celtic Rock band; they're a trad band with a punk attitude. Flogging Molly on the other hand, or The Dropkick Murphy's, would be Punk bands, with some Irish attitude.
Similarly Horslips were a Rock band, who then fused in Irish traditional elements, whereas Moving Hearts were a trad band who fused in rock elements.
Flannigan's Right Hook play a combination of Country and Irish, something which is very commonly done in Ireland - have a look in any music shop in Ireland under the category "Country n' Irish". And FRH are quite musical with it.
Video
Here's the boys rockin' it up with a contemporary bluegrass traditional Irish version of U2's Sunday Bloody Sunday at the the Kansas City Scottish Highland Games no less:

Current play lists by the boys include classic Irish standards - ballads and tunes - and also a whole slew of songs from the world of American country music, classic tracks, bluegrass and current stuff.
Video of Flannigan's Right Hook in O'Malley's of Weston, MO: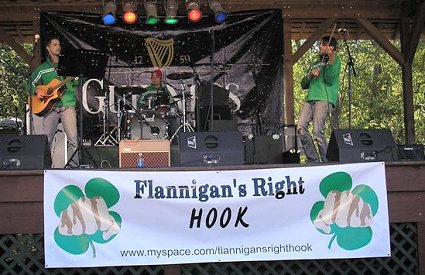 Gigs
In the Kansas City area you can hear Flannigan's Right Hook play frequent gigs at various establishments.
The Right Hook boys regularly play the Barley's Brewhaus pubs, mostly the one at I-435 and Midland, but also the one at 119th Street and Quivera. Appearances at Kyle's Tap Room in Gladstone, and at O'Malley's Irish Pub of Weston also take place.
In the summer of 2007 FRH also scheduled a gig for 810 Zone in Leawood - at 119th Street and Roe.
Check the Irish Events Calendar for current gigs.
To Book: Contact Cameron Russell at (816) 223 9119
Cameron: Guitar, harmonica, lead vocals
Shane: Violin, vocals
Michael: Drums, vocals
Update: Flannigan's Left Foot
Check out Flannigan's Right Hook on MySpace
See a list of entertainers performing Irish music in the Kansas City area
---