Q. Do You Have Snow in Ireland, Real Snow
Short Answer: Yes (Scroll down for photo)
Longer Answer: Sometimes this Frequently Asked Irish Question is phrased "You Don't Have Snow in Ireland, Not Really" and the question mark is left off leaving you unsure of how to answer.
For a couple of years I lived in Firhouse, in the southwest of Dublin, and at the time I worked deep in the heart of the southside (yuk) in Cabinteely. As this was before the southern section of the C-Ring M-50 was built, I had a few less obvious options to commute.
1. Walk 5 minutes. Take Bus across the the southside. Walk 25 mins Total journey 2.5 hours.
2. Walk 5 minutes. Take Bus to City Centre. Walk 5 minutes. Take Bus out to southside. Walk 5 minutes. Total journey 2 hours.
3. Walk 10 minutes. Get lift past Lamb Doyle's direct to work. Total journey 1 hour 15 minutes.
4. Cycle through southside door-to-door. Total journey 55 minutes
5. Walk 10 minutes. Get lift past Johnny Fox's direct to work. Total journey 45 minutes.
The problem with the quickest option, number five, is that it wasn't really direct at all. It added an extra four miles onto the journey for the priviledge of bouncing along a boggy twisting mountain road.
Great views, and you kept moving, however slow, but it always felt like this should not be a suburban commuting route - like you were doing something bad. There's something wrong with how a city functions if its workers can reduce their commute by diverting into mountains. Within a year of first using that "quick" route, the mountains became over trafficked, and it was our fault.
The other big problem with commuting through the mountains was snow. When snow fell in Dublin, any snow, I didn't get to see Johnny Fox's.
You don't get real snow, you just get a dusting. Sometimes, yes we do get just a dusting. And yes Dublin can be brought to a news-saturated standstill by a snowfall one third the volume of a snowfall in Connacht that doesn't get any news coverage, but either way, Ireland does get snow.
I've made snowmen. I've thrown snowballs. I've sledded. In Ireland. In Dublin even. You can't do that with a dusting.
And when I was fifteen, this happened: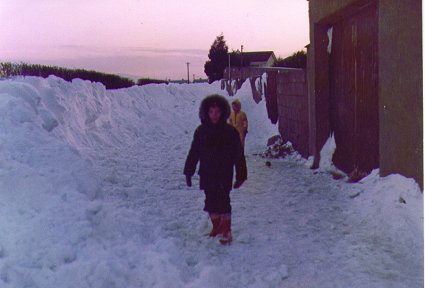 This is the scene less than one minute walk from my front door, with two young gurriers (actually Brother the Younger and Sister the Younger) standing in an area that has been cleared. Nothing has been stacked up. That is how God, or whoever dropped snow that year, left it, in Dublin West.
See Also:
• What's With You Irish And All This Guilt Stuff? (FAIQ #18)
• Talking Temperatures in Ireland and America
• How Do You Find America? (FAIQ #10)
• Building an Igloo in Kansas City