Once upon a time The Elders of Kansas City's weren't fronted by Ian Byrne. Such has been the Wicklow man's presence that it seems like another age when The Elders were fronted by Michael Bliss.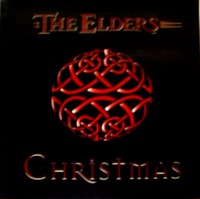 Back in those days The Elders brought out a Christmas song called, strangely enough, Elders Christmas Song, and Wendy has included it in the second of her two Christmas specials of the Cleveland Celtic Podcast.
As well as The Elders, Christmas 2 includes such friends of Kansas City as Seven Nations, Great Big Sea (singing about Mary though it does sound like Riding on a Donkey, which is probably fair enough), the Brobdingnagian Bards, and Brigid's Cross.
It also features such names as The Ruffians from New York doing Christmas in Killarney, and the angelic Loreena McKennit (assuming angels don't sing like Lemmy from Motorhead), before finishing with Eric Rigler's version of Auld Lang Syne.
Because Wendy fits so much music into her podcasts I've alluded before to the size of the MP3 files, but her podcasts are also available in the smaller and higher quality AAC format, which can be streamed or downloaded.
If podcasting itself is still an alien concept to you there is an embedded player for you on Cleveland Celtic Podcast, which you should visit for show notes, and band links.