A few days ago I was in County Derry, and while the bucketing rain of the early morning roundabout journey there via Belfast was exhilarating, I decided to wait for the blue skies for a handful of photos.
Not too many for you this time, and all bar one of the pictures was taken from a moving car. I should confess though that I wasn't really driving around Derry - I was passengering.
That's the very striking and dominant Binevenagh Mountain in the distance. I had a cup of tea beside me when I took this from a friend's back garden full of playing kids:

About a minute after I took this photo, when the road was no wider, a car shot past us and overtook the haytruck (yes it used the grass):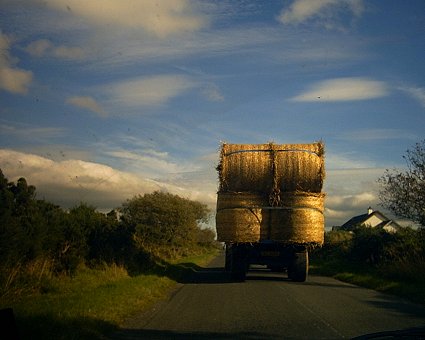 Lough Foyle - with County Derry of Northern Ireland on the right and County Donegal of the Republic to the left.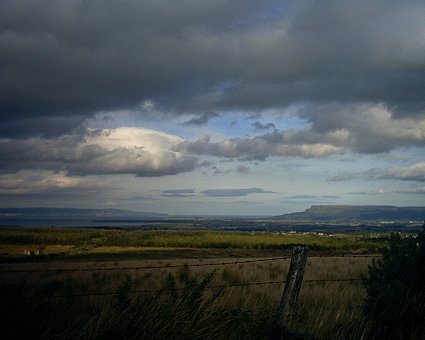 And driving to the Sperrin Mountains - it is of course much more scenic in them but then I was too busy looking to take photos: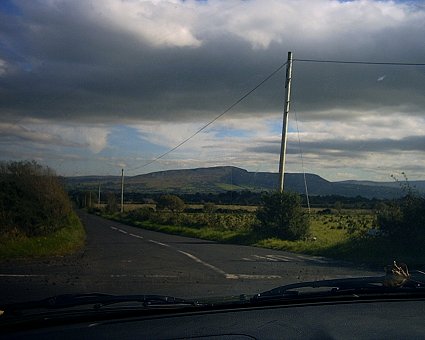 See Lots More Photos
• At The Races: Downpatrick
• Dublin's Grand Canal
• Dublin Walls
• Downpatrick
• At The Races - Clonmel
• Kansas City Walls
• KC Waldo Luxuries
• Donegal & Sligo
• West Cork