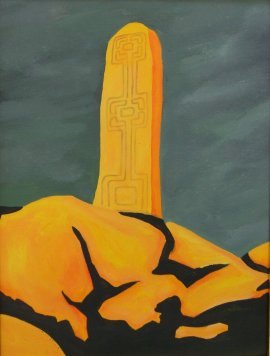 Donegal Standing Stone I
12″ x 16″
On canvas, unframed
Available as a print only.
Stick me in Donegal on a grey day among the carved standing stones, and I'm yours.
As Ireland moved from pagan phallic stones to carved Celtic High Crosses, there was period where crosses were carved onto the standing stones and slabs. A bit like slapping a tattoo on your lad, I suppose.
Yes, this painting invokes the most titters when it's at a show.
Update: The original painting is now sold but prints are available in 3 different sizes.
See more of my Irish paintings for sale.