Just your typical March Saturday afternoon in Brookside.
Turn the air conditioning on, make your way past the men jogging topless on the Trolley Track Trail, and wave at Horses, Trucks and a tractor.
Not too far from growing up in Ireland where refrigerators on a truck was considered a float, and more than one JCB a parade.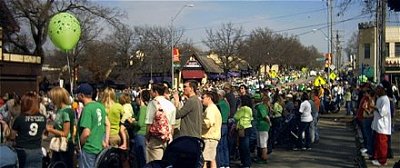 This year's parade in Brookside was huge. Over 90 entrants and the enormous crowds out enjoying the sun were leaving before the end. That shouldn't really happen for a neighbourhood parade.
My favourite entrants, for three reasons, were The Falcons drill team. The first reason was for coping with the adversity of having one of the girls legs removed so it could be used for a lamp on the Spinal Tap guitar-playing float - my second favourite entry.
The second reason was for the unending enthusiasm - and I mean that literally. I followed the Falcons and they played and drilled on past the endpoint of the parade, on around the corner, up the block, past the assembly point, around the next corner, and they just kept playing. The crowds long gone, no entrants behind them, and they just kept on doing their thing. They're possibly still doing it there now.
And the third reason the Falcons were my favourite? They wore blue.