Connacht Town are a new band in Kansas City playing Irish music.
Irish music?
Connacht Town perform Irish traditional songs, and then add some rock music into the bargain.
Pub rock they call it. And Patrick Brown tells me they're having a ton of fun doing it.
If you visit their page on MySpace you can hear three of their songs right now:
• Come Out Ye Black and Tans
• Wild Rover
• Fields of Athenry
The world of PsychoCeili, Celtic Rock, and whatever you want to call the variations that you hear on Paddy Rock radio is a competitive one out there in North America, and even here just in the Midwest and Kansas City region, but I see no reason why Connacht Town's rocked up traditional songs won't be very popular in the pubs and festivals of Kansas City. Take with beer.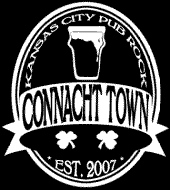 Among other venues Connacht Town have performed at O'Malley's Irish Pub in Weston, Missouri, the Celtic Festival at Governor Stumpy's, the mini-Irishfest at Davey's Uptown and are on the bill for the 2008 Weston Irish Festival.
And who are these long-time musicians bringing Pub Rock to the Midwest? Get to know them by their first names:
Paddy - Guitar, Vocals
Nick - Guitar, Backing Vocals
Ethan - Mandolin, Fiddle, Backing Vocals
Patrick - Bass, Backing Vocals
Pedro - Drums
I must confess to having a soft spot for anybody who lists Tom Jones and The Clash as influences.
Here's a video of Connacht Town performing The Foggy Dew at the 2009 Celtic Block Party at Governor Stumpy's:

Website: www.connachttown.com, though at the moment it's just a splash page with the logo and linking to their MySpace page, and not a bad idea.
On Irish KC
Gigs will be added to the Events Calendar. And Connacht Town's MySpace has beed added to the big Kansas City MySpace list
See a list of Celtic & Irish music bands in the Kansas City area