Chimp
Painting by me of a Chimp.
2″ x 3″ approx.
Mixed Media on Paper
Price: €32 (or US $45)
S&H: €2 (or US $3)
From the small paintings of animals series.
Mixed media means inks, acrylics and watercolours.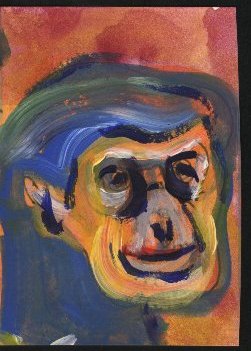 Not for sale - but thinking about it
Including shipping, €34 (or US $49) is the price in total that you pay to purchase this painting and have it shipped to your door.
Contact me to pay for the painting. I'll happily take a cheque/check in dollars, euro, or sterling, or a bank transfer if that's easier, or even cash if you happen to be in Dublin and it's possible for me to meet you at my studio in Ranelagh.
Note how small this painting is. Also note that the measurements aren't exact. When I did this series I painted them all on a huge sheet and then cut them out - so they're all roughly 2 x 3 inches but there are some serious variances and I'm not taking a ruler to every one.
See more Irish paintings on sale.
---