Celtic Fest Chicago is a two-day festival in Chicago's Grant Park on Septemebr 16 & 17, with FREE admission, that celebrates the music, dance and traditions of many Celtic regions. Being a fan of Seven Nations you'll know those seven regions are Brittany, Wales, Cornwall, Isle of Man, Galicia, Ireland and Scotland.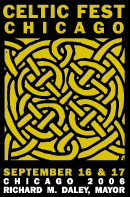 There are tons of festivals in America labelling themselves Celtic, and for the most part they're actually Scottish festivals with an injection of Irish - the other acknowledged Celtic areas of the world going unacknowledged. When was the last time you were at a Manx Festival? You know that was Manx countryside sufficing for Irish countryside when you watched Waking Ned Devine?
Celtic Fest Chicago celebrates its 10 year anniversary in 2006. To celebrate, they are having The Bangor Male Voice Choir from Wales, and all other Celtic nations are also being represented. There are 9 stages at Celtic Fest, as well as additional entertainment areas.
La Bottine Souriante • Natalie MacMaster • The Barra McNeills • Kansas City's The Elders • Xochilmica • David Munnelly • Beolach • Dominique Dupuis • Tornaod • King Chiaullee • Dyed in the Wool • Homeland • The Larkin & Moran Brothers
Highland Games. Celtic Men in Kilts. Shepherding. Comedy. Coffee and Tea Garden. Irish Dancing. Bagpipe Parade. Irish language lessons. Harp Tent. Kids Celtic Oasis. Céilí Dance Tent. Storytelling. Uillean Pipe Tionól. And, my favourite - but I'm biased - a Celtic Art Fair.
See Also:
• Irish Festivals (and Scottish, and Celtic)
• Mississippi Celtic Fest Photos
• Green Day