Cahal Dunne, Happy Man
Good job Irish singer Cahal Dunne didn't win the Irish National song contest with a song called Lady of Knock, or we wouldn't know what to call him. Or he'd have gender issues.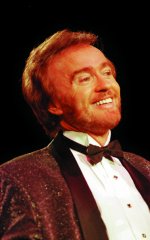 Booking Cahal Dunne, all round entertainer, and someone your mother should love, is a nice variation in musical acts for this year's Kansas City Irish Fest. From Irish standards to Broadway tunes, and his own written numbers Dunne wears his jacket well. Indeed I don't think you can watch him yourself unless you're wearing a jacket.
Cahal plays inside Crown Center on the Atriukm Stage on Saturday, and up on the big Terrace Stage at 11:00am on sunday - just after mass.
And if your mother doesn't like him, give your mother my number - we should talk.
Visit Cahal Dunne's official website
---