While I was celebrating Dublin's most famous literary day, in, well, Dublin, Kansas City was having its annual celebration of Bloomsday in the new Irish downtown pub, Raglan Road.
While the bookstore that brings you Bloomsday in Kansas City is sadly no more, Bloomsday Books lives on in books, in barflies and in events.
Luckily for me, technology has allowed me in Ireland to participate on occasion with those people in KC that mixed with those books (and me) every week.
So I've had several reports of the night in Raglan Road, and some in pictures. Here's my favourite photo of the night, courtesy of Pete Maher of the Midwest Irish Focus: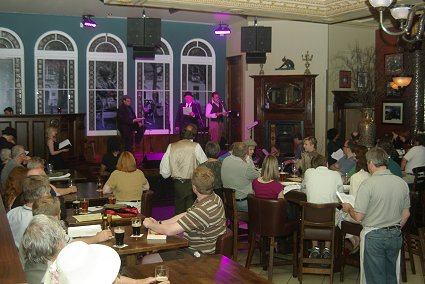 Meanwhile Jason from the Pitch, who sent me a great run down of Ulysses activities this year at the Kansas City Literary Festival, has a slideshow of 16 photos though I think it peaks in the 1st picture.
I must tell you about my own Bloomsday one of these days, or at least of Bloomsday in Dublin.