Benbulben
Benbulben
Sale price: $95 (+ FREE shipping) SOLD
Acrylic on canvas
16″ x 20″
unframed
Sligo's famous table mountain is often mistaken for a Mesa in the southwestern US when I show it in America.
Everybody loves mountains. Dear tourists to Ireland: Don't ignore Sligo.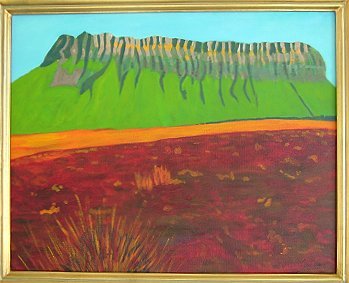 If you're known to me you could always pay me direct and save me the processing fees. I'd like that. If you live in Dublin or are visiting we could meet and swap painting for cash, or else you could send me payment by cheque or pigeon and I can ship the painting via the Post Office.
Because shipping is FREE worldwide the price of $95 is what you pay in total to purchase this painting and have it shipped to your door.
Update: This painting is now SOLD
It always seems improper not to mention W.B. Yeats when talking of Benbulben. Buried in its shadow is that most famous of graves:
Cast a cold eye
On life, on death.
Horseman, pass by!
Shipping is probably $15 to Ireland and $25 to the rest of the world FREE worldwide
See more of my Irish Paintings for sale.
---