38′000 Feet: An abstract painting by me
38′000 Feet
$99 SALE Price: $75 SOLD
Sometimes I've called this painting 35′000 feet. The idea is the same.
You remember I was cycling across America ten 16 years ago? Well, I know many of you were following the journal and disappointed I stopped publishing it - because you told me - so just as soon as I can transcribe tape 10 again, I will. [Update: I did. The whole Cycle Across America is now online]
Anyway, the first time I flew over North America after that cycle, I looked out the window down at the land and cried. This is that painting.
38′000 Feet is on canvas, measures 12″ x 16″, and is being sold unframed. It's a very textural painting which may not come across on your monitor.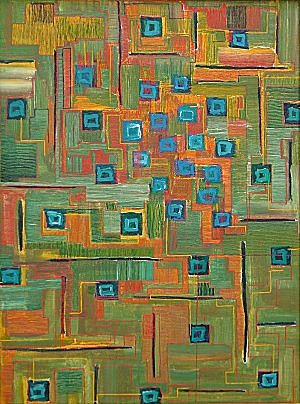 Shipping is FREE to anywhere in the world.
So the sale price of $75 is what you pay in total to purchase this painting and have it shipped to your door. [Update: This painting is now SOLD.]
To keep my shipping costs down this painting will probably be shipped in a tube rather than my usual and preferred method for unframed paintings of flat in an archival sleeve.
See more paintings currently on sale.
---