Pegli - A Painting of Italy
Pegli
76cm x 76cm (30ins x 30ins)
Canvas
€1,150 (approx. $1,475)
Shipping: €45 (approx $60)
As Dun Laoghaire is to Dublin, Pegli is to Genoa.
This is what I saw coming in on the ferry from Genoa.
Luckily the Italians had already painted the buildings the right colours for me.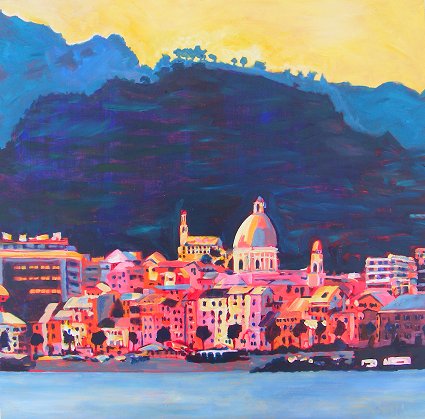 This painting continues around on to all sides which are 3.8cm (1.5 inches) wide.
It's a big painting, so if you're in Ireland meeting me to exchange would save you a chunk of money on shipping, and me a chunk of time packaging it - or maybe I could deliver it direct to you - drop me an email eolai[at]irishkc[dot]com.
This might give you an idea of what 30 inches by 30 inches looks like: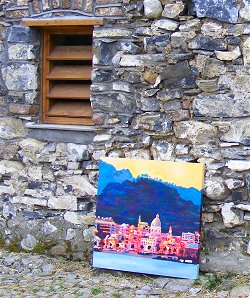 If you're known to me you could always pay me direct and save me the processing fees. I'd like that.
With shipping included the price of €1,195 is what you pay in total to purchase this painting and have it shipped to your door.

See more paintings available for sale (page is maintained so it is always current)
See more paintings exhibited at the Irish Blog Awards in the Cork International Airport Hotel.
---