Painting: Window, Birdtable
Window, Birdtable
Sale Price: $75 SOLD
16 x 20 ins, on paper
unframed
I built that multi-story bird table, and that year watched almot 30 species of bird come to visit despite the close attentions of an aggressive cat. This is also probably a good place to say that I prefer small windows to big ones.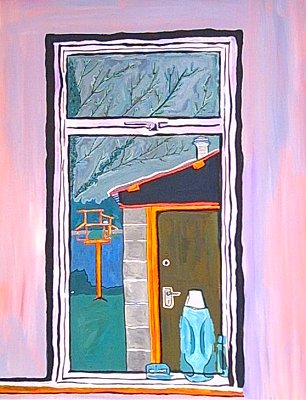 Shipping is FREE to wherever you live in the world. Move further away from me and you'll increase the value you're getting.
So the sale price of $75 is what you pay in total to purchase this painting and have it shipped to your door.
[Update: SOLD]
To keep my shipping costs down this painting will probably be shipped in a tube rather than my usual and preferred method of flat in an archival sleeve.
Window, Birdtable is a painting showing the back garden of a house in Lindsay Road, Dublin with Mountjoy Prison beyond.
See more paintings currently on sale.
---