Painting: The Quay II
The Quay II
9.75ins x 7ins
Mat Board
70 EUR / 108 USD Sale: 35 EUR / 54 USD
3.5 EUR / 5 USD Sale: Shipping FREE
SOLD
The quays along the Liffey in Dublin are somewhere I walk regularly. If you're a long time reader, or someone who just hangs around on the quays a lot then you'll know that the way I typically walk them is by crossing every bridge so that I get to enjoy the view from both banks of the river. The increase in the number of bridges in recent years has made this walk that bit longer.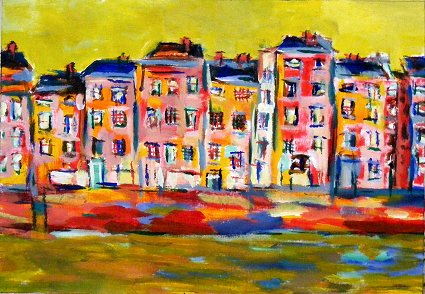 Although I've painted specific scenes on the quays (The Four Courts, O'Connell Bridge, Essex Quay, The Custom House, Wood Quay, and Sir John Rogerson Quay) this is not the first time I've painted a generic Dublin quay scene - primarily based on Arran Quay and Ormond Quays, Upper and Lower.
The Quay II is now SOLD.
This painting comes in an archival sleeve.
See more paintings in this sale.
The Quay II is part of the End of Year 2009 online sale of paintings, which has launched with paintings at half-price and FREE shipping worldwide until Christmas Eve. Dozens of new paintings are being rolled out on my personal blog Bicyclistic in batches of 5, 6 and 2, 3. To see announcements first follow me on twitter.
Meanwhile see other paintings of Ireland and elsewhere available for sale.
---