Painting - St Basils
St Basils
Sale Price: $55 SOLD
12 x 16 ins, on paper
unframed
I've painted and drawn St Basil's in Moscow several times. I just love the collection of lines that go into making up this most famous of multiple onion-domed buildings.
This painting, which is more of a drawing using just ink and some slight brushings of yellow and green, is my favourite of all the times and angles I have painted it from - I also have a charcoal drawing from the same angle.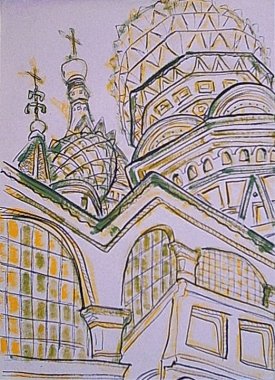 Shipping is FREE to anywhere in the world.
So the sale price of $55 is what you pay in total to purchase this painting (update: SOLD) and have it shipped to your door.
To keep my shipping costs down this painting will probably be shipped in a tube rather than my usual and preferred method of flat in an archival sleeve - but if I can ship it flat I will. Note that this painting is on very delicate paper easily damaged.
See more paintings currently on sale.
---