Painting: Skibbereen
Skibbereen
30cm x 20cm x 3.5cm (11.75ins x 8ins x 1.75ins)
canvas
€85 SOLD
Shipping €11
From my recent painting cycle tour of Ireland where I had the good luck to be taken on a drive in west Cork that passed through Skibbereen 2 days before I cycled there and stayed there. It struck me as a very yellow town, and I like yellow towns. Of course there could just be something wrong with my eyes.
If you're known to me you could always pay me direct and save me the processing fees. Direct means personal cheque/check, account transfer, or that stuff called cash.
This painting is now SOLD.
Skibebereen is painted on canvas - including its sides which are 3.5cm wide - visible here: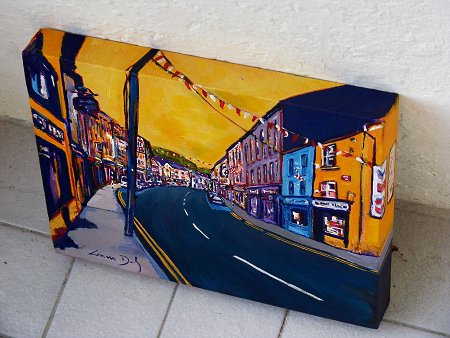 December 2011 Paintings SALE!
See all the new paintings on sale for December 2011.
Prints
There are some prints of my Irish paintings available for purchase, frequently with discounts.
---