Painting: Rook, Flight 2
Rook, Flight 2
8ins x 8ins x 1.5ins
Canvas
140 USD / 99 EUR Shipping $10 / €7 (Worldwide)
SOLD
Rooks, I like them. Walking, eating, sitting, and of course flying, I find they have a dignity in rock like presence. And I love their shape in all its forms. Oh, and that reddish thing in the painting is just a reddish thing. Because it's a painting and I felt it needed a big reddish thing.
This photo isn't great, tending to wash out the colours - it does look better in reality. Maybe I should take a better photo.
This painting continues around the wide sides (1 and a half inches thick) so can be hung unframed.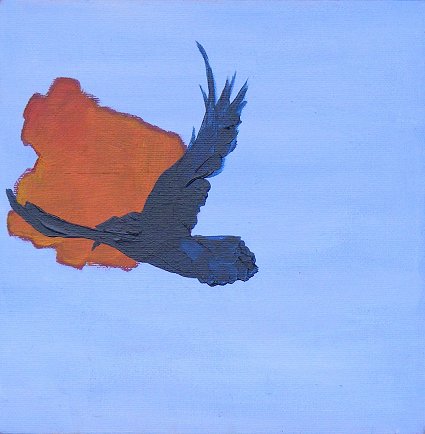 This painting Rook, Flight 2 is now SOLD.
More paintings from August 2009 are listed here.
Meanwhile see other paintings of Ireland and elsewhere available for sale.
---