Painting: Lindsay Road, East
Lindsay Road, East
Sale Price: $75 SOLD
16 x 20 ins, on paper
unframed
The view from a kitchen window on Dublin's Lindsay Road as you look east. The wall regularly housed the Dance of Death between Sparky the cat, who thought he was a dog, and Calamity, who knew she was a cat.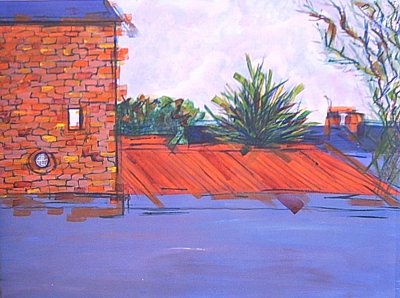 Shipping is FREE to wherever you live in the world. Move further away from me and you'll increase the value you're getting.
So the sale price of $75 is what you pay in total to purchase this painting and have it shipped to your door.
[Update: SOLD]
To keep my shipping costs down this painting will probably be shipped in a tube rather than my usual and preferred method of flat in an archival sleeve.
Window, Birdtable is a painting showing the back garden of a house in Lindsay Road, Dublin with Mountjoy Prison beyond.
See more paintings currently on sale.
---