Painting: Kansas, West
Kansas West
12ins x 12ins
Canvas
215 euro
Shipping 15 euro
This is a scene from my cycle across America. It's out in the centre of west Kansas looking back to the north through the stony bluffy hills I'd just climbed up. I wrote about the scene in my journal part #50 Kansas is a Big State and when the painting was in an unfinished state it featured in a question for one of my painting giveaway competitions - which was a lot of fun.
Anyway, in crossing America I cycled Kansas south to north, and then weeks later I cycled it from north to south. It is big, but not only is it majestic - in detail it's beautiful.
If you're known to me you could always pay me direct and save me the processing fees. Direct means personal cheque/check, account transfer, or that stuff called cash.
With shipping included the price of 230 EUR is what you pay in total to purchase this painting and have it shipped to your door.

Kansas West is painted on the sides, which are 1.5″ wide: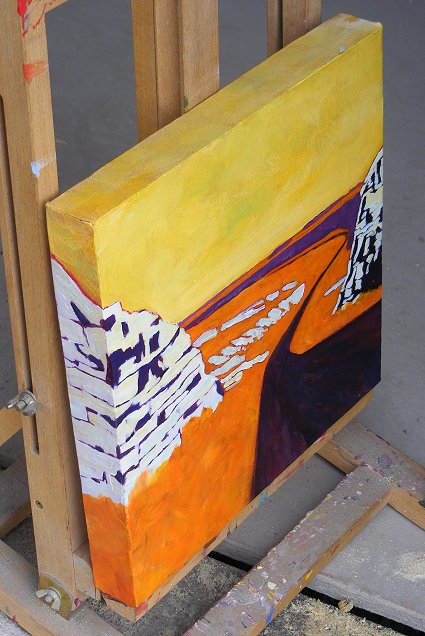 See all the paintings exhibited at the Irish Blog Awards 2010, in the Radisson Blu Hotel in Galway.
Paintings For Sale
See other paintings available for sale - paintings are added to and withdrawn from this page regularly as they become available for sale and are sold.
There's also a page of paintings of Ireland and elsewhere most of which are sold.
---