Painting: Irish Townscape
Irish Townscape
11ins x 14ins
Canvas
€110 SOLD
Shipping €11 Worldwide
Sometimes when I'm a passenger in the back seat of a car driving somewhere in Ireland, I like to look straight out the back window at the villages and towns where we don't stop, as they rush away from you - traffic permitting.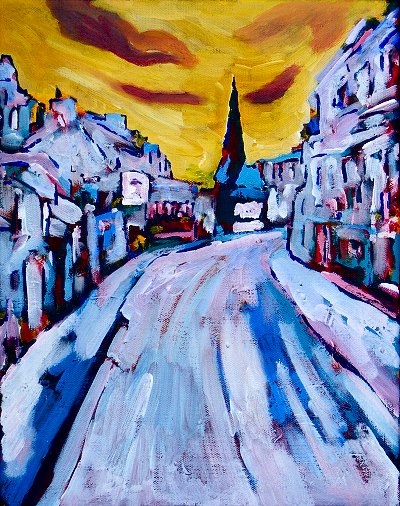 This painting continues around the sides, which are 0.75″ wide.
If you are known to me you could always pay me direct (by cash or bank transfer) and save me the processing fees. I'd like that. If you are in or near Dublin you could save the shipping expenses by meeting up with me in town or at my studio in Lucan.
This painting is now SOLD.
Paintings For Sale
See other paintings available for sale - paintings are added to and withdrawn from this page regularly as they become available for sale and are sold.
There's also a page of paintings of Ireland and elsewhere most of which are sold.
---