Painting: Guinness Gate II
Guinness Gate II
12ins x 12ins
Canvas
180euro/240USD Sale: 90euro(122 USD)
Shipping 11 euro / 15 USD
SOLD
There is nowhere in Dublin city that I have walked more than its quays. Whichever direction I'm going I rarely don't pause at Victoria Quay, look west to Parkgate Street, or if I'm up far enough, at Hueston Bridge and Station. And always to stare at the gates to Guinness' in that wall. I love that horrible wall.
In case you're wondering, I've only painted Guinness Gate I in my head. I imagine it'll surface in reality later in the year.
If you're known to me you could always pay me direct and save me the processing fees. Direct means personal cheque/check, account transfer, or that stuff called cash.
This painting is now SOLD.
Guinness Gate II is painted on the sides, which are 1.5″ wide: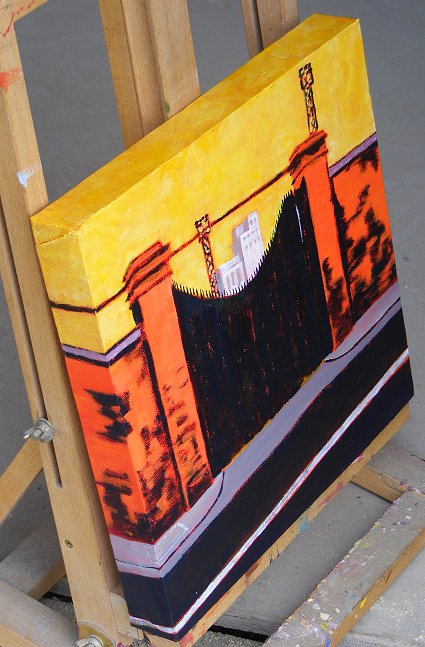 See all the paintings exhibited at the Irish Blog Awards 2010, in the Radisson Blu Hotel in Galway.
---