Painting: Fish Drying on Tap Mun
Fish Drying on Tap Mun
acrylics & ink
15 x 20 ins, on paper
WON
Price: $125
unframed
S&H: $15
Because my Cantonese was pretty poor I persuaded by default some man to take me in his small boat to an island in the New Territories of Hong Kong, where I then got to see lots of fish drying. I can still smell them now. Tap Mun is Grass Island if I remember correctly.
Fish Drying on Tap Mun is on paper, measures 14″ x 20″, and is being sold unframed.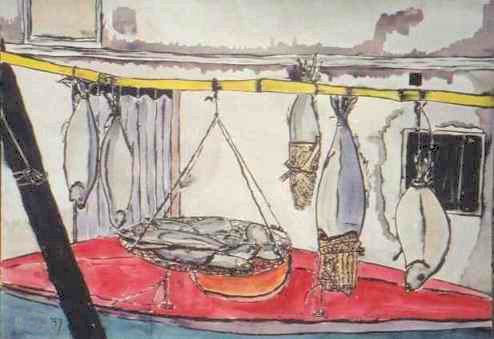 Fish Drying on Tap Mun is no longer available for purchase as it was WON in Painting Giveaway #8. Follow my personal blog or follow me on twitter for future painting giveaways.
See more of my paintings for sale.
---