Painting: Errigal & Her Sisters
Errigal & Her Sisters
11ins x 14ins
Canvas
250 USD / 174 EUR
SOLD
I lived in north Donegal for a few weeks last year. This was a view about a mile from my cottage. The Derryveagh Mountains dominate most views, and this one is of Errigal and couple of the other Seven Sisters, Mackoght and Ardloughnabrackbaddy I think, but if not it was still worth saying.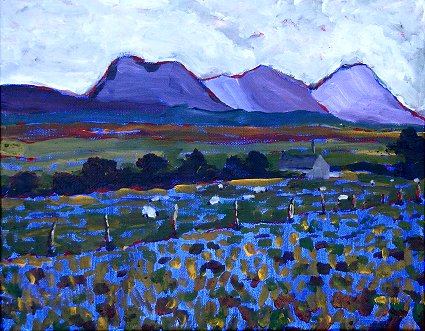 This painting continues around the sides, which are 0.75″ wide.
This painting, Errigal & Her Sisters, is now SOLD.
More paintings from August 2009 are listed here.
Meanwhile see other paintings of Ireland and elsewhere available for sale.
---