Painting: Duck, Flying
Painting by me of a Duck, Flying.
2″ x 3″ approx.
Mixed Media on Paper
Unavailable - Won!
From the small paintings of animals series.
Mixed media means inks, acrylics and watercolours.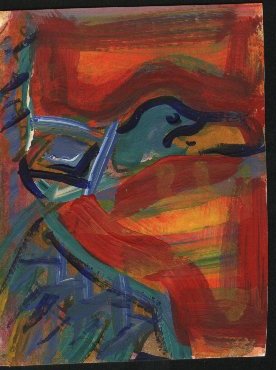 Not for sale - but thinking about it.
This painting is no longer available for purchase having been won in one of the frequent painting giveaway features I run.
Note how small this painting is. Also note that the measurements aren't exact. When I did this series I painted them all on a huge sheet and then cut them out - so they're all roughly 2 x 3 inches but there are some serious variances and I'm not taking a ruler to every one.
See more of my paintings on sale.
---