Painting: Donegal Cottage
Donegal Cottage
12ins x 16ins
Canvas panel
SOLD
This is not the cottage I lived in up in Donegal, but one I spotted on an earlier trip.
Typically I would ask the lads to stop the car if I saw a carved stone in a field, or deduced from the map that there were remains of a portal tomb behind a house, or - as in this case - a dilapidated cottage with a window that grabbed me.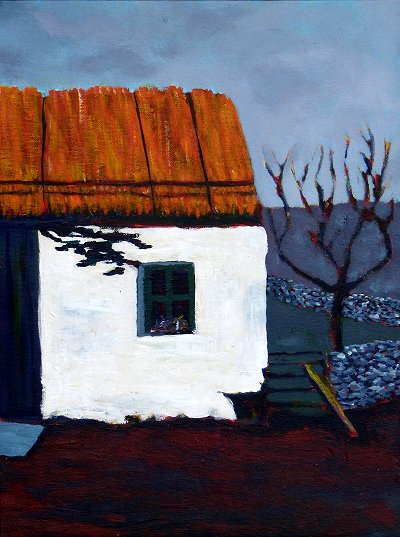 If you are known to me you could always pay me direct and save me the processing fees. I'd like that. If you are in or near Dublin you could help me with shipping expenses by meeting up with me in town or at my studio in Lucan.
Donegal Cottage is now SOLD.
This painting is part of the August 2009 online sale, which has launched with paintings at half-price and free shipping worldwide for the first week only.
More paintings from the August 2009 sale are listed here.
Meanwhile see other paintings of Ireland and elsewhere available for sale.
---