Painting: Custom House
Custom House
Sale Price: $55 SOLD
10 x 12 ins, on paper
unframed
This is an awful photo of Custom House - sorry. I'll update it when I get a chance. And while I'm apologising I should say sorry for not managing to capture very well Dublin's most elegant building.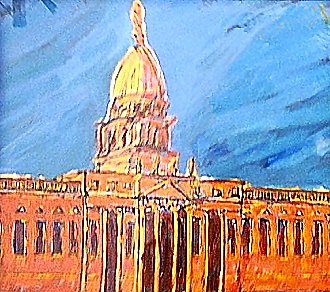 Shipping is FREE worldwide though.
So the sale price of just $55 is what you pay in total to purchase this painting (update: SOLD) and have it shipped to your door.
To keep my shipping costs down this painting will probably be shipped in a tube rather than my usual and preferred method of flat in an archival sleeve - but if I can manage to ship it flat I will.
See more paintings currently on sale.
---