Painting: Connemara Trees, Small
Connemara Trees, Small
9ins x 7ins
Mat Board
SOLD
100 USD / 70 EUR
Shipping $5 / €3.50 (Worldwide)
That very first time I was on the bus heading in to the Gaeltacht as it wound around the inlets and lakes of coastal Connemara, the most beautiful girl I'd ever met was turned around and trying to talk to me. She was called Celine in an Ireland when nobody was called Celine, but I didn't care what she was saying - because I was mesmerised by the views out the window and especially those trees.
After leaving school Celine emigrated to Australia where she married. I still look out windows.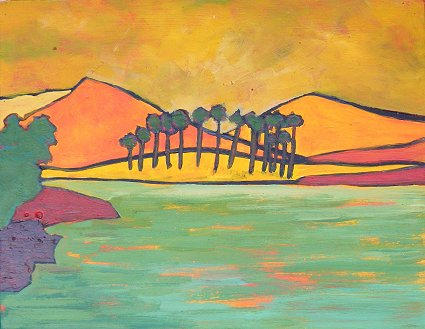 This painting, Connemara Trees (small), is now SOLD.
More paintings from August 2009 are listed here.
Meanwhile see other paintings of Ireland and elsewhere available for sale.
---