Painting: Bloody Foreland
Bloody Foreland
9ins x 7ins
Mat Board
70 EUR / 94 USD Sale: 35 EUR / 47 USD
Shipping 3.5 EUR / 5 USD - Sale: FREE
SOLD
As seen from the east, I regularly got to look at Donegal's Bloody Foreland from across the bog in all kinds of light and never tired of its changing colours.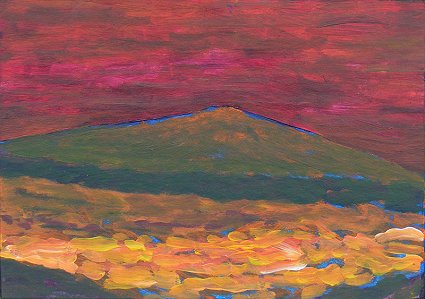 If you are known to me you could always pay me direct (cash, bank transfer, personal check/cheque) and save me the processing fees. I like it when you can do that. If you are in or near Dublin you could save me the shipping expenses by meeting up with me in town or at my studio in Lucan.
Bloody Foreland is now SOLD
See more paintings in this sale.
Bloody Foreland is part of the March 2010 online sale of paintings, which has launched with paintings at half-price and FREE shipping worldwide for a week or so. New paintings are being rolled out over several days on my personal blog Bicyclistic. To see announcements first follow me on twitter.
Meanwhile see other paintings of Ireland and elsewhere available for sale.
---