Four Courts, No Trees
Four Courts, No Trees
16″ x 20″
Acrylic on paper
SOLD
when I painted Dublin's Four Courts I didn't paint the trees in front of it because Dublin was littered carelessly with London Plane trees that I had been campaigning against for years.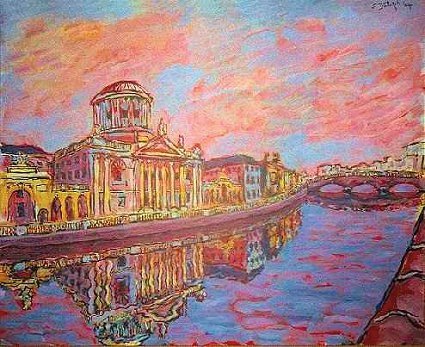 Campaigning against trees makes you about as popular as a serial killer, but it seemed lost on people that it wasn't trees in general I was against, just a certain kind of tree and how it had been used in an urban area. And when I say campaigning I mean talking while drinking.
Years later the authorities of Dublin City agreed with me and have taken down many of Dublin's London Planes.
Four Courts, No Trees depicts the highest courts in Ireland, situated by the river Liffey in Dublin. In the painting you are looking down river at O'Donovan Rossa Bridge. O'Connell Bridge is a couple of quays beyond. Four Courts, No Trees was sold at an Irish festival in 2003.
See more of my Paintings of Ireland.
---