Elevator, Sunday
Elevator, Sunday
30ins x 40ins
Canvas
1,270 USD (950 EUR)
Shipping 45 USD (34 EUR )
A grain elevator I cycled past in Nebraska. Or Kansas. Or West Texas. Or the Oklahoma Panhandle.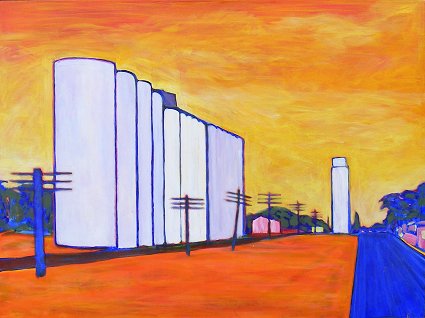 This painting continues around the sides, which are 1.5″ wide.
This is a very large painting, so it would be easier and cheaper to deliver it by hand rather than to send it by post or courier - but that would mean you'd have to be in Ireland like me. Drop me an email if you have any queries : eolai[at]irishkc[dot]com
With shipping included the price of $1,315 (984 EUR) is what you pay in total to purchase this painting and have it shipped to your door.

See more paintings exhibited at the Irish Blog Awards in the Cork International Airport Hotel.
---