Doolin II
Doolin II
6 x 12 ins, unframed on panel
Sale Price: $45 SOLD
Shipping is FREE worldwide.
Have you ever tried going to the Cliffs of Moher and not going to Doolin? The genius of Doolin isn't the music in McDermott's or O'Connor's. Nor is it the proximity to the sea (wave watching anybody?). Nope it's in having it's main street exist on just one side of the road so that you have an iconic image burned into the mind of everyone who's ever visited. Go in February and have it to yourself.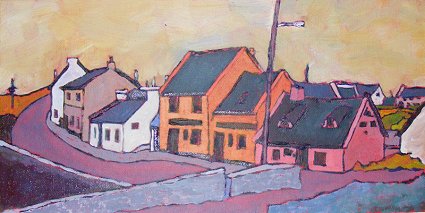 Because shipping is FREE in this sale the price of $45 is what you pay in total to purchase this painting and have it shipped to your door.
Update: This painting is now SOLD
Should you be interested in buying this painting and you're known to me you could always pay me direct and save me the processing fees. I'd like that.
Note: The photo of this painting was taken indoors when some paint was still wet. The flash is reflecting off the wet paint and has washed out some other colours a little.
See more of my Irish paintings for sale.
---