Cliffs of Moher II
Cliffs of Moher II
Acrylic on canvas panel, unframed
6 ins x 12 ins
Sale Price:$45 SOLD
FREE shipping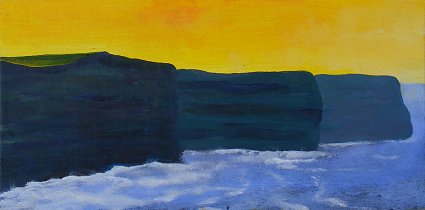 If you're known to me you could always pay me direct and save me the processing fees. I'd like that.
Because shipping is FREE worldwide the price of $45 is what you pay in total to purchase this painting and have it shipped to your door.
This painting is now SOLD
Note that this painting although small is several times bigger than the mini-landscapes. I'm just making them all the same width on the screen for display purposes.
Related: Also note that there is a similar, though much bigger, painting to this also in this sale. It's 2 foot by 1 foot with painted sides, and costs $95. Have a look at Cliffs of Moher I
See more Irish paintings for sale.
---